NEXT: (Japan Time)

3/6 7:00 am
3/7 7:00 am
3/13 19:00 pm
3/14 7:00 am
¥1500 per person for groups of 5+
Contact for Private Sessions
An Online Tour of Japan`s Famous Odawara Castle and Fuma Ninja Clan Experience
We welcome you to the grounds of Odawara Castle in Japan for the "Ninja Experience." This live experience on Zoom, lets you meet and learn from a ninja scholar and historian and take a tour of the Odawara Castle grounds. Learn about the history of Odawara Castle and the ninja that served here, see the Samurai Museum, and make a short stop at the Ninomiya Shrine. Learn the traditional techniques that the ninja used hundreds of years ago. We will share the history of the castle and the ninja.

We then interact with one of Japan's foremost experts on Ninjutsu and ninja history.This experience starts with a short walking tour around Odawara Castle to learn more about its history and the historical context of the ninja. We then arrive at the ninja museum to show some historical artifacts (throwing stars, weapons, photos). Then in a traditional Japanese room we will start to learn and practice some of the fundamental techniques used by the ninja from Jinkawa sensei.

Reservations for this experience can now be made through airbnb Experiences. Please contact us directly for private sessions.

Upon reservation and payment, information will be sent to registered e-mail address. Please feel free to contact us anytime with questions or comments.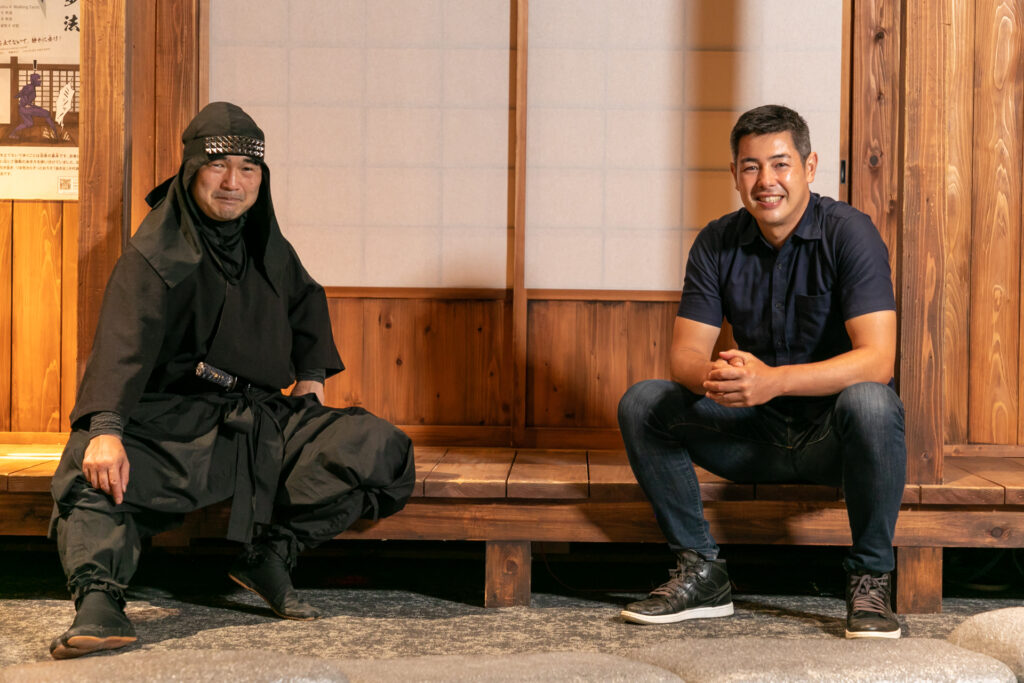 We will start with a tour of Odawara Castle to give you the basic background of the time period and history of the time of the ninja and samurai. Walking up from the lower moat to the main castle keep, we will talk about the architecture, history, and culture of Japan that can be seen around us. There will even be a short visit to the shrine on the castle grounds. Then we meet and learn about the ninja together with Jinkawa san.

1. Tour of Odawara Castle and Grounds...Discover one of Japan`s most famous castles. Learn about the history, architecture, and culture. We will also show the Samurai Museum and Ninomiya Shrine.

2. Meditation....with stories as to why it was important to ninja and how it is connected to modern daily lives. We encourage guests to do it together.

3. Weapons and Tools....Watch real weapons in use. Learn about the sword, shuriken, and other weapons and their uses (showing and asking questions about real items that were used). Get something ready and learn the fundamentals of using the katana, Japanese samurai sword together.

4. Movement....We talk about how the ninja moved, encourage participants to join, and then end with a short "sword demonstration" to show how fundamental movements affect swordsmanship. Get a stick or broom handy so you can try these techniques too.

5. Breathing...We will try a number of fundamental breathing techniques used by the ninja to calm themselves and concentrate.

At the end we encourage open discussion and questions...ending with the iconic ninja hand gestures that we explain.
Find a comfortable place and clothes to enjoy this online experience. Bring your curiosity and sense of imagination as we guide you through the world of the Ninja and Odawara Castle. The hosts are ready to answer any of your questions. There will be a katana sword explanation and short show, so get a stick or something ready if you would like to try too.

1. Comfortable Setting and Clothes
2. Stick-like object to learn and practice your sword skills
3. Pencils, chopsticks, or something stick like...to show off your throwing star skills.
4. Curiosity and a Smile....we look forward to meeting you.
Times and dates are for Japan, but have been set to accommodate participants in Europe and the Americas.
Experiences from 11/29 and after will be made through Airbnb Experiences