NEXT: (Japan Time)

3/8 7:00am

Contact for Private Sessions
A Live Stream Online Tour of Japan`s Famous Hakone Shrine
Welcome to the famous Hakone Shrine. On the shores of Lake Ashi is this shrine with a history dating back to 757. On this online tour we will take a stroll through the shrine grounds and talk about the religion, culture, and history of Japan while looking at sacred trees, Koi ponds, and shrine architecture.

This is an interactive online tour and we encourage participation, questions, and discussion to make this event as memorable and informative as possible.

This shrine has close ties to legends of dragons, famous samurai, and the history of Japan.
Upon reservation and payment, Zoom link information will be sent to registered e-mail address. Please feel free to contact us anytime with questions or comments.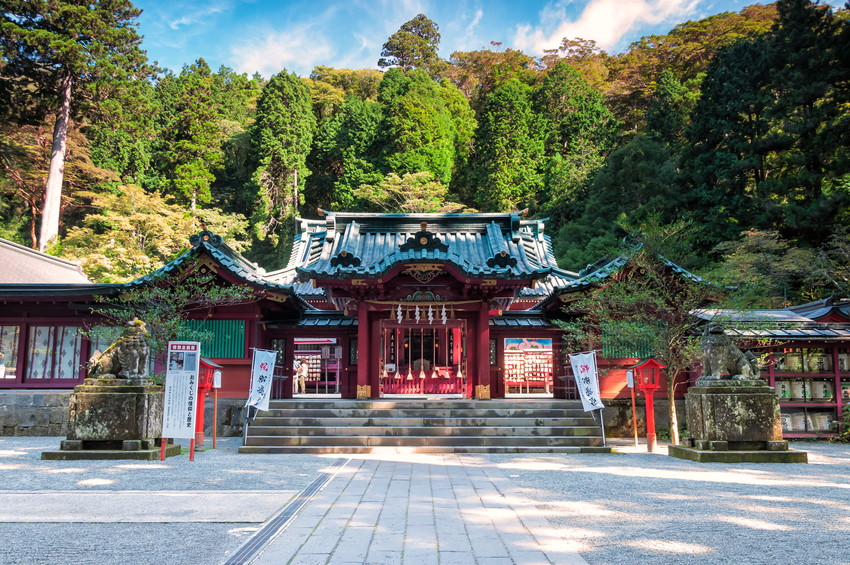 We will start on the shores of Lake Ashi at the famed Torii Shrine gates leading up to the main shrine. This is one of the most famous images of Japan. Our talk will start with the founding of the shrine and the famous legends surrounding it as we make are way up past peace monuments, sacred trees, and more. Some other stops will also include a koi fish pond, archery range, and more.

1. Torii Shrine Gates...Start on the shores of Lake Ashi as we view the famed gates and enter sacred ground.

2. Main Shrine...See the architecture and history of this shrine gate. This will be a time when talking is kept to a minimum to respect the enshrined god and the people praying.

3. Sacred Trees and Koi Pond...The shrine grounds are large and filled with lots of interesting places that we will stop by as we explore.

4. Shinto Talk...It is a shrine and a place to worship the gods in the Japanese Shinto religion. The religion is unique as has close ties to nature worship, folklore, and Japanese history.

5. Shrine Walk...Enjoy the lush nature of the Hakone Mountains and find peace of mind and connect with Japan in a different way.

At the end and during the tour we encourage open discussion and questions...we look forward to meeting you.
Nohting special. This will be an online tour that will include talks about the Shinto religion, samurai, and nature so get your curiosity and questions ready.

Contact us directly for private experiences or information on upcoming events and scheduled experiences.
Times and dates are for Japan, but have been set to accommodate participants in Europe and the Americas.