Traditional Japanese Woodcraft
Hakone-Yosegi-Zaiku is a woodwork made in the mountains of Hakone, Kanagawa Prefecture. Because the area has a rich natural environment, including the rich variety of trees in the Hakone Mountains, marquetry has developed by making use of the natural colors of the various trees found in the region. Hakone-Yosegi-Zaiku is characterized by its ability to create a variety of patterns by combining the different colors of the trees. As a result, it is possible to express traditional patterns such as waves, hemp leaves, arrows, and weaves. Trees are also divided into different colors, and there are more than 50 species.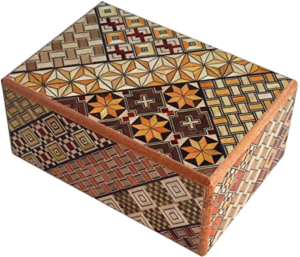 In Japan, there are more than 1000 types of traditional crafts, of which about 230 are specified by the Minister of Economy, Trade and Industry. There is a very long history of these crafts being produced in each region, they incorporate many regional characteristics, and all of them display the classic Japanese subtlety, elaborateness, and beauty. The craftsmanship can really be appreciated when you view the creation process. Choosing, cutting, sanding, and crafting these goods takes many hours, days, and sometimes even years. "Hakone Yosegi Zaiku" is one of these traditional crafts. Getting this designation was also thanks to the passion and dedication of artisans like Noboru Honma, featured in the video below. Take the time to appreciate the history and characteristics of yosegi zaiku marquetry, along with the rich wooden texture that have been passed down in the Hakone/Odawara area for generations.
Where is Yosegi Zaiku From?
In 1984, Hakone-Yosegi-Zaiku was designated as a traditional craft by the Ministry of International Trade and Industry, and it has been attracting people as an intricate work of art that goes beyond being a souvenir. Marquetry is said to have existed as high quality furniture and furnishings as far back as the beginning of the Heian period (794-1185), but Hakone Marquetry is said to have started in the Edo period (1603-1868). The founder was a man named Nihei Ishikawa, who lived in the mountain village of Hatajuku. At that time, products were made with a single type of tree or a simple pattern, rather than a complex combination of tree colors. At that time, they were made as souvenirs sold at teahouses and hot springs along the Tokaido Highway. Toward the end of the Edo period, many products such as hikimono and sashimono were made. From then on, designs began to be created with intricate and delicate patterns using a variety of trees, as is the case today.
Why has yosegi zaiku become ingrained in the Hakone/Odawara area in the first place? This is due to the local characteristics. 
In Hakone, the origins of Hakone yosegi zaiku are traceable to an area called Hatajuku. On the Hakone Shindo, a mountain path that begins from Odawara Station and runs through the mountains, it is about a 30-minute ride. 
Ishikawa Nihei (born and raised in the Hatajuku area) brought back yosegi zaiku from Shizuoka during the late Edo period. The actual technique of yosegi zaiku itself originated in the early 17th century and was used for 200 years in Shizuoka (there are several theories). 
Hakone is said to have been rich in nature at that time and to have many trees in the wild, so it is thought that yosegi zaiku became rooted in that area. In the Hakone/Odawara region, yosegi zaiku became rooted as one of the traditional crafts practices after being incorporated into Ishikawa Nihei's joinery crafts. 
 The Hakone/Odawara area has about 50 artisans who make yosegi zaiku marquetry, four of whom are traditional craftspeople. In Japan, they produce most of the yosegi zaiku marquetry.